Permanently soft gel. Conforms to MIL-PRF-18458 C. Submarine Material Usage Category-Limited-100°F Maximum Temperature. It is available in Greenish Black color.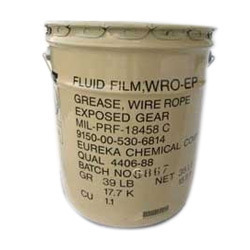 WRO-EP is recommended for the general maintenance of wire rope. It provides corrosion protection and lubrication for standing and running rigging, drag lines and bridge cable. The high tackiness of WRO-EP minimizes throw-off on higher speed running rigging and provides higher resistance to water abrasion and wash out when used in tidal areas. Extreme pressure properties provide excellent lubrication for both wire rope and open gear applications.
Rusty wire rope and cable should be first treated with FLUID FILM Liquid A to attain maximum penetration.
Where a low viscosity material is desired for a slushing compound, the use of FLUID FILM Gel-WRL is recommended. This product also has extreme pressure properties.