Profile
We are Engineering Consultants for design, development of Embedded Electronic projects, Software Engineering Projects. We also assist design and manufacture of metal enclosures and Panels for Electronic products.
We also assist Organisations in Marketing and Implementation of IT and ITES solutions.
We are also the Distributor in India for Fluid Film – World's Best Corrosion Preventive, Lubricant and Rust Inhibitor for Marine applications
When the U.S. Navy needed to conquer the costs and delays of battling rust and corrosion in the ballast tanks of its thousands of combat and support vessels in World War II, an innovative West Coast chemist formulated a powerful weapon based on an unlikely ingredient: lanolin (wool wax). The savings were immediate. The costs of chipping, sealing and painting were greatly reduced. The new film penetrated corrosion and rust quickly. Application was simple. Protective action was long lasting and economical.
The weapon was Fluid Film, produced in a variety of easy-use forms by Eureka Chemical Company. From its first seagoing use in the 1940s, Fluid Film proved in some of the most severe conditions; Industrial, agricultural, raw-terrain construction - even on the space shuttle.
Modified over time to adapt to environmental and application considerations, it's non-toxic, non-hazardous, contains no solvents and is environmentally friendlier. Fluid Film continues to serve as the most effective corrosion control of industry, farming, industrial and transportation.
Product Application Areas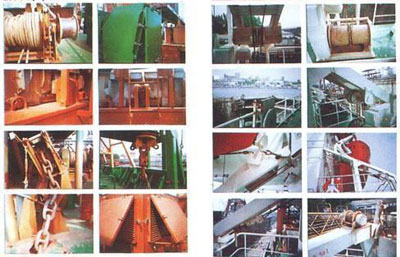 Our products can be used in the following industries:
Agriculture
Automotive
Aviation
Boating
Heavy marine
Home
Industrial
Lawn & garden
Recreation
Trucking
Winter equipment
Social Commitments
Our Commitment to the Environment:
FLUID FILM products are solvent free and consist of an all natural lanolin base, which contain less than 1% VOC in their bulk form. Remaining solvent free since the original formulation in 1943, the FLUID FILM product line is made of the highest quality corrosion preventives and lubricants available on the market today.
FLUID FILM, when used on cutting devices, will not burn greenery.
Advantages
Practical Advantages:
Requires minimum surface preparation
Penetrates existing rust, displaces water, forming a durable film
Adheres to and gives full protection to wet or dry surfaces
Does not dry out, harden or crack
Resists water washing yet can easily be removed when required
Due to its physical properties the coating is self healing in case of mechanical scoring or similar damage
Because the coating remains soft it is highly flexible and readily compensates for metal expansion
Low cost long term preservation of steel (new and repair) in ballast tanks, dry docks, cofferdams, barges, chain lockers, and any metal surface subjected to corrosive marine atmospheres